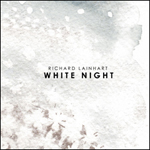 White Night ( Ex Ovo EXO1974)
This first release on CD features Richard Lainhart's masterpiece in its original 29-minute version. White Night is available in Europe from Ex Ovo and in the US from CDeMUSIC .
---
heathenharvest.com

Electronic music historians will no doubt have snapped this up already and fans of gentle, minimalist drone would do well to follow suit but, whatever you do, don't approach this with a modern sensibility. Lie back, put it on repeat and drift back to that cold evening in 1974 as the twisting threads of Moog-sound float past you.
Read the full review: heathenharvest.com
---
Touching Extremes

A calm, meditative mantra of about 29 minutes for Moog synthesizer that was composed in 1974 and rediscovered only in recent years, "White Night" takes its title from the snow storm characterizing the moment in which the author was completing the final mix of the piece, an edited and remixed version of the same already heard and appreciated on the Ex Ovo compilation "I, Mute Hummings" a while back. The root tones of the single chord informing the track were processed by separate sine wave oscillators, in turn regulated by different sequencers; the static harmony is indeed moved "inside" by wavering morphing caresses. Despite the fact that this music is somehow lauded as a predecessor of Brian Eno's "Discreet Music" on the press release, the most evident term of comparison is probably Charlemagne Palestine's work with electronics in "Four Manifestations On Six Elements", although Lainhart's composition lacks a tad of neural intensity compared to that milestone. This doesn't imply a lesser consideration of the record, which remains as pleasing and mind-depurating as any in the genre, confirming what good the author had shown in albums like "Ten Thousand Shades of Blue" on XI.
A typical case of "infinite repeat" at moderate volume, to let that lone chord resonate in all its richness of beautiful chromatic hues. More than ambient, less than experimental, very charming throughout.
Massimo Ricci, Touching Extremes
---
Other Music

Phill Niblock's XI Records has been a pretty indispensable source for minimal and drone-based music, and if pressed to name my three favorite releases on the label I'd have to pick Niblock's own YPGPN, Eliane Radigue's Kyema, and Richard Lainhart's Ten Thousand Shades of Blue. Lainhart is, perhaps, not as well known to our customers as Radigue and Niblock, but that disc, a retrospective of his work spanning the years 1975-1989, is simply exquisite. Not included on that album for reasons due to length no doubt, was his 1974 piece "White Night," recorded on the Moog synthesizer at the Electronic Music Studio at the State University in Albany, and here finally given its first ever release by the German label Ex Ovo.
Lainhart had begun experimenting with early synthesizers a couple of years earlier while under the influence of Morton Subotnick's Silver Apples of the Moon. By 1974 he'd found his own voice, setting aside the percolating beeps and bips for a more measured and contemplative approach. "White Night" proceeds slowly, with carefully modulated sine waves and shifting tones interacting subtly across four tracks like a tempered music of the spheres. No great heights are ever reached, it's just perfectly ambient, a long, deep, thirty-minute exhalation of breath. A very beautiful release that seems totally modern -- I'm thinking here of Mountains and William Basinski in particular -- that I can't recommend highly enough. [MK]
www.othermusic.com
---
www.gothtronic.com
"[...] 'White Night' is incredibly intense in build-up, sound and production. But it's only 30 minutes, and it's just ... Well ... I want more! [...]To make a long story short, Richard Lainhart created a piece of music which now, 35 years later, would be labeled under analog drones the way they are made nowadays by the big drone artists. And Ex Ovo might well be the perfect label for this release." — Bauke van der Wal, Gothtronic.
Read the full review: www.gothtronic.com
---
www.vitalweekly.net
"[...] Over the last thirty years ambient music has developed in all sorts of manners, from listening to pure field recordings to ambient house, rock and what else. The biggest part however is played by musicians who use a lot of synthesizers to create music that fills your environment and makes you feel good. This could, historically, be linked back to Lamonte Young, Terry Riley, Pauline Oliveros and Charlemagne Palestine, the origins of western drone music. Now Ex Ovo releases the whole, twenty-nine minute piece, and, while named after a snowy night on which it was recorded, today it's actually very sunny and not cold here. But the sun provides a sharp light in my room, and the swirling tones of Lainhart's moog are presently there in my environment. Maybe I still think it's regular ambient music, but I must also admit that it's a very fine piece of music. A nice piece of drone music, not unlike the latter day Mirror or Christoph Heeman, or in fact some of Eno's own later work. A solid piece." — Frans de Waard, Vital Weekly #614.
Read the full review: www.vitalweekly.net
---
Doroskedeho
Richard Lainhart, who has been active for years as a creator of ambient music, once produced an unknown masterpiece "Ten Thousand Shadows of Blue' (2CD), and also participated in the works of David Behrman and Phill Niblock. And now, the rare stuff which was produced with only the sine waves of a Moog synth in 1974 was finally released by German label 'ExOvo'!! The endless sounds of different pitches are changed one after another, and it continues on and on, though it's not an old-fashioned at all and we are astonished by the perfect sound!! The image of 'white night' comes into our mind easily.
'WHITE NIGHT' was recorded in 1974 before Ten Thousand Shadows of Blue a.k.a.'Anthology' which was released by XI. Though Richard recorded his works of ambient music early in the 70's (earlier than Brian Eno), he is not as well known, but this album is an awesome work which includes the element of the drones of recent ambient music with a Moog synth. He was ahead of others in his style. The minute vibration of the sound leads us to the inner space. This album is a super masterpiece. I recommend this in particular to people who listen to Mirror, Andrew Chalk, Jon Gibson etc. It's a MUST album!!!!!!!!!!!
Read the review (in Japanese): doroskedeho.blogspot.com
---
Unrurh (in German)  – www.unruhr.de
---
Feindesland (in German)  – www.feindesland.de